29/11/2022 • 4 min read
Download 10 tips for planning lessons that inspire action
Inspire your learners to play their part on the local and global level.
To design lessons that explore impactful, actionable ideas effectively, follow John's 10 tips.
Presented by John Patton at the IB Global Conference, The Hague 2022
John Patton is the IB DP Coordinator and University Guidance Counselor at St. Gilgen International School. He loves the power of education and is driven by helping students discover in themselves their purpose and the positive impact they can have in the world, both locally and globally.
1. Let the students play.
Make sure they are actively exploring: trying, failing, trying again…
2. Foster collaboration.
Teams are good, pairs are best. I recommend groups of no more than three if there is a technical deliverable.
3. Make it challenging and achievable.
The task cannot be simple, and it must require creative thinking and problem solving.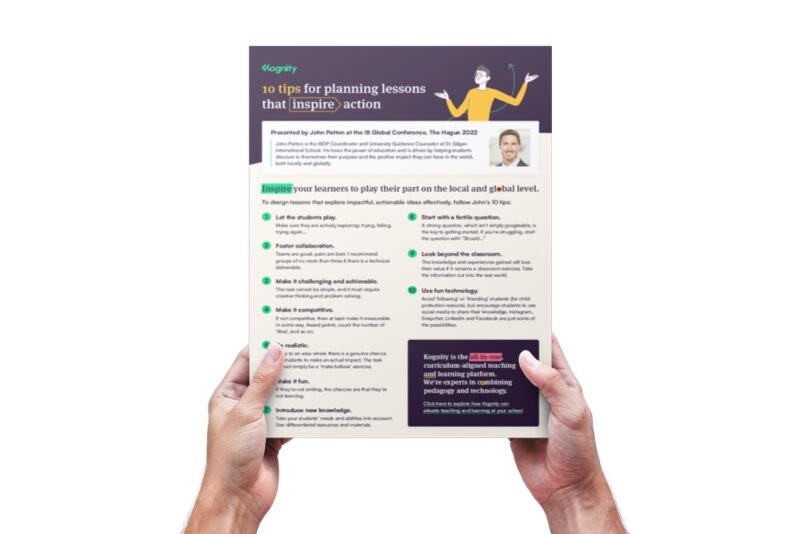 Get a copy of this resource to keep or share with others!
4. Make it competitive.
If not competitive, then at least make it measurable in some way. Award points, count the number of 'likes', and so on.
5. Be realistic.
Keep to an area where there is a genuine chance for students to make an actual impact. The task cannot simply be a 'make believe' exercise.
6. Make it fun.
If they're not smiling, the chances are that they're not learning.
7. Introduce new knowledge.
Take your students' needs and abilities into account. Use differentiated resources and materials.
8. Start with a fertile question.
A strong question, which isn't simply googleable, is the key to getting started. If you're struggling, start the question with "Should…"
9. Look beyond the classroom.
The knowledge and experiences gained will lose their value if it remains a classroom exercise. Take the information out into the real world.
10. Use fun technology.
Avoid 'following' or 'friending' students (for child protection reasons), but encourage students to use social media to share their knowledge. Instagram, Snapchat, LinkedIn and Facebook are just some of the possibilities.
John's recommended resources
Videos
Recommended playlists
Podcasts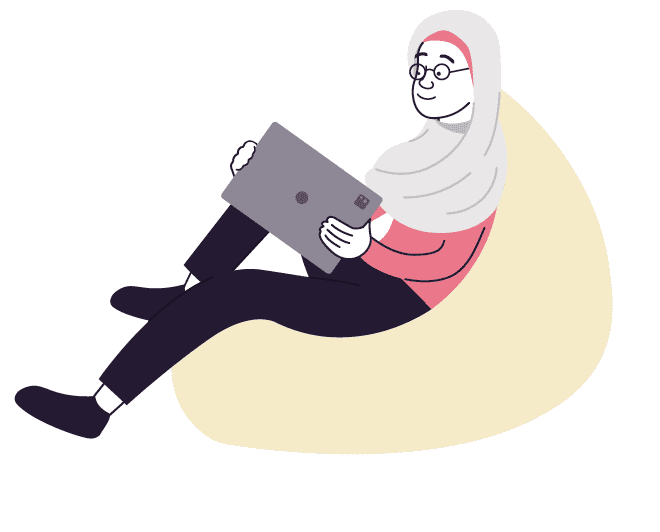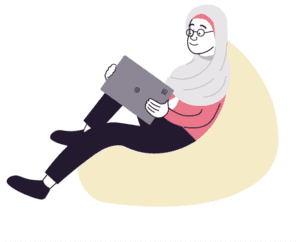 Reading
Erlauer, L. (2003). The Brain Compatible Classroom: Using What We Know About Learning to Improve Teaching. Alexandria, VA: ASCD.
Ginnis, P. (2002). The Teacher's Toolkit: Raise Classroom Achievement with Strategies for Every Learner. Bancyfelin, Carmarthen, Wales: Crown House Publishing.
Griffith, A., & Burns, M. (2014). Teaching Backwards. Bancyfelin, Carmarthen, Wales: Crown House Publishing.
Fleetham, M. (2003). How To Create and Develop a Thinking Classroom. Cambridge: LDA.
Hill, J. D., & Flynn, K. M. (2006). Classroom Instruction That Works with English Language Learners. Alexandria, VA: ASCD.
Jensen, E. (2005). Teaching With The Brain In Mind. Alexandria, VA: Association for Supervision and Curriculum Development.
Sherrington, T. (2017). The Learning Rainforest: Great Teaching in Real Classrooms. Melton, Woodbridge: John Catt Educational Ltd.
Smith, J. (2010). The Lazy Teacher's Handbook: How Your Students Learn More When You Teach Less. Bancyfelin, Carmarthen, Wales: Crown House Publishing Ltd.
Weinstein, Y., Sumeracki, M., & Caviglioli, O. (2019). Understanding How We Learn: A Visual Guide. New York, New York: Routledge.
---