Your

all-in-one

teaching and learning platform for Cambridge IGCSE™
Access inspiring, interactive content, analytics and assessment support – all in one easy-to-use solution. By using Kognity, you save time and provide learners with everything they need to achieve the best exam results possible.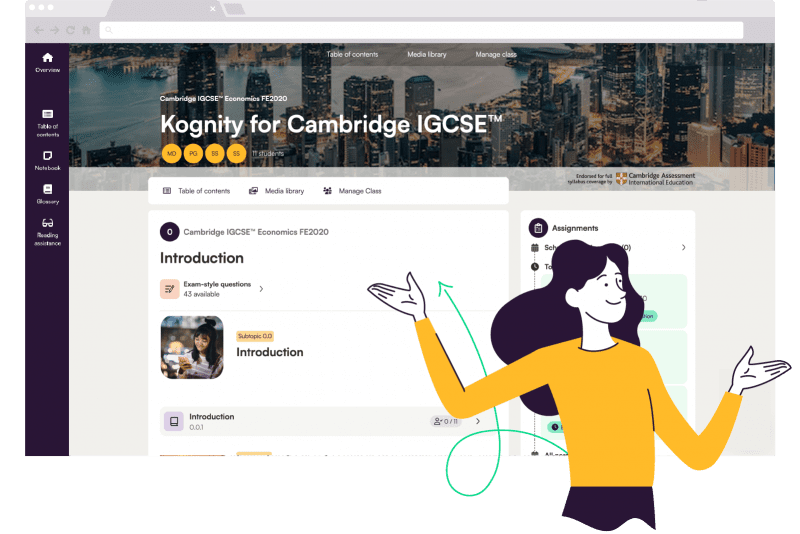 Why Kognity for Cambridge IGCSE™?
With access to curriculum-aligned content, analytics and assessment support all in one place, teachers not only save time but also get real-time insights on how students are performing. This helps them tailor their teaching to individual needs, plan lessons and elevate learning.

This digital-first approach combines the best of pedagogy and technology, creating a truly enhanced education experience – whether students are learning in the classroom or studying at home.
Get

instant access

and explore Kognity yourself!
"I would advise other teachers to try Kognity out with the trial. Make sure you're dipping into everything Kognity has to offer. If you think of it as just a textbook or just a way to give quizzes, you'll miss out!"

Francesca

Jacobson-Smith

Science Teacher at Westminster Academy, London
Everything in

one place
Get access to curriculum-aligned, interactive textbooks, analytics and assessment support – all in one place.
Which subject do you teach?
Kognity is proud to provide the only digital-first endorsed resource for Cambridge IGCSE™️. All of Kognity's IGCSE subjects* are endorsed by Cambridge Assessment International Education.
*Kognity is working with Cambridge Assessment International Education towards endorsement of these title(s) for examination from 2025: Cambridge IGCSE™️ Mathematics, Cambridge IGCSE™️ International Mathematics, Cambridge IGCSE™️ Combined Science.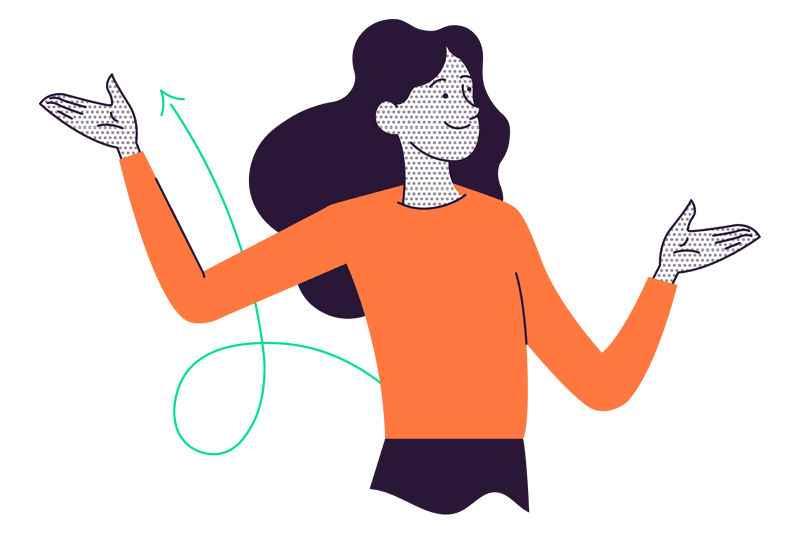 Professional development
With Kognity you also get access to on-demand PD materials and webinars, hosted by experts, which support a forward-thinking approach to pedagogy and staff development. These sessions promote excellent teaching and learning methodologies in line with modern learning theory, as well as helping teachers adapt to the latest curriculum updates and assessment requirements.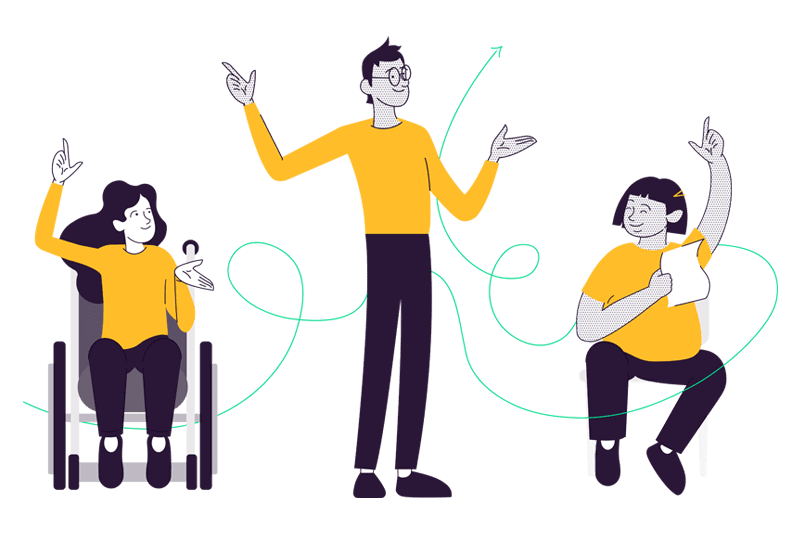 World class training and support
Extensive, personalised training ensures that every teacher gets the most out of Kognity. School leaders can monitor usage and tailor PD to ensure that students get a consistent learning experience and staff get the support they need.
Also, no question is left unanswered by our friendly and skilled support team, available 24/5.
Trusted by international schools in over 100 countries
Schools in over 100 countries use Kognity to help them teach more efficiently and support Cambridge IGCSE™ students with their independent learning.
Frequently Asked Questions
What is Kognity?
Kognity is your curriculum-aligned teaching and learning platform with interactive content, analytics and assessment support – all in one place. Educators all over the globe use Kognity to save valuable time, improve teaching efficiency and guide students on an active and inclusive learning journey that will unlock their full potential. Kognity is a Swedish edtech company founded in 2015 by IB alumni. Since then we have grown fast and expanded our platform to align with Cambridge IGCSE™ and US High Schools NGSS. We are striving to be best at combining technology and pedagogy and our vision is to radically improve learning for all students around the globe. Today, over 1000 schools use Kognity in over 100 countries. 
Who is Kognity for?
Today Kognity supports schools teaching the IB Diploma Programme, Cambridge IGCSE™ and US High School Science. Our platform has been created with both the teacher and student in mind. With Kognity, teachers have access to high quality content to use in class or as homework, assessment tools and student data tracking, and professional development. Students get access to an interactive learning platform with curriculum-aligned, engaging content and a practice center to encourage independent learning.
We offer a department, school or district license. This helps schools to deliver consistent, high-quality learning experiences across departments, but also to maintain a manageable workload for staff – supporting a better work-life balance and increasing student attainment.
Who creates your content?
We work with experienced teachers, authors and subject experts. All content goes through an extensive quality control and review process before being published on the Kognity platform, and is constantly updated in line with syllabus changes and user feedback.
How much does Kognity cost?
The price of Kognity varies depending on the number of students you have and the subscription type that you choose (Full or Department Access). A Kognity subscription is charged per student, per year. Teachers are always free.
How do I get started with Kognity?
You'll be up and running in no time. We'll help to create accounts for your teachers and students, and they'll soon be enjoying all the benefits of accelerated teaching and learning. It's all very intuitive. Even so, we'll be here to support you every step of the way.
Activate your free trial with your Kognity contact
Book training for students and teachers
Kognity sets-up complete, full access to the platform (including seamless integration with Google Classroom and ManageBac if needed)
Decide to continue with Kognity after your trial
Enjoy teaching with Kognity and improve learning!
Ready for the next step? A Kognity expert is waiting to assist you!
Partners and Integrations
We're proud of our partnerships and integrations, which make your experience of using the Kognity platform even better.