Cambridge IGCSE™ Co-ordinated Sciences (FE 2019, FE 2025)
Kognity for Cambridge IGCSE Co-ordinated Sciences provides full coverage of the latest syllabus (0654/0973). Interactive content, analytics and assessment support – all in one place.
Kognity is working with Cambridge Assessment International Education (CAIE) towards endorsement of a new title for the updated syllabus for first examination in 2025.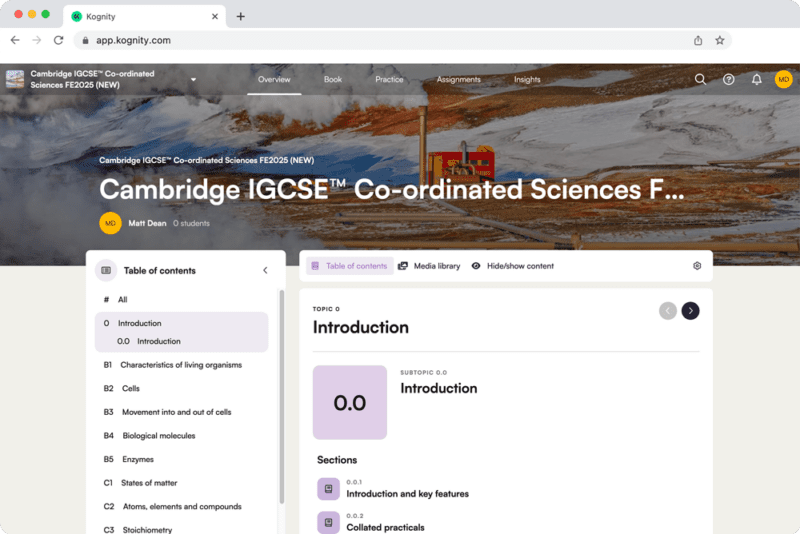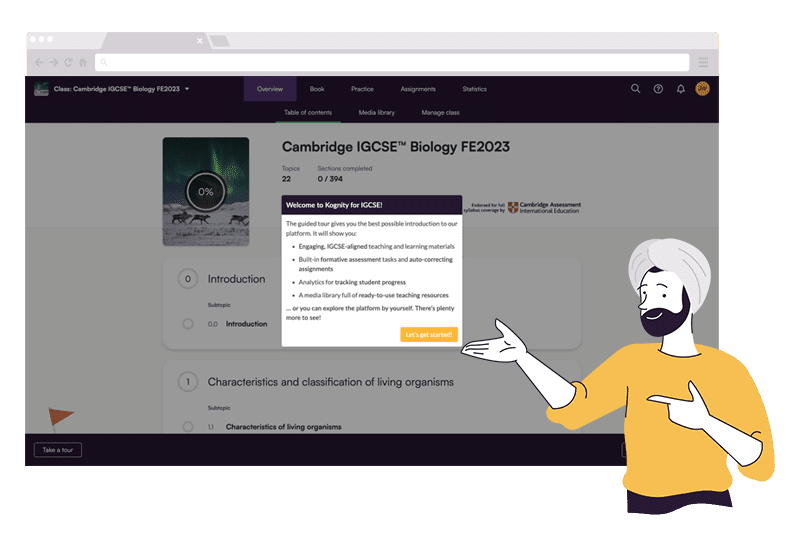 Engage

your students like never before
The best learning experiences spark students' passion.
Kognity for Cambridge IGCSE Co-ordinated Sciences supports elevated, digital-first teaching and learning that meets the needs of modern students. The intuitive platform equips teachers to deliver the course more efficiently, helping students to realise their potential and prepare effectively for their exams.
It follows the syllabus guide beautifully; very user-friendly for students. Lots of interactive sections, plus good questions for extra practice – whether assigned by me or for independent study.

Ann Marie

Cassar Torreggiani

Physics teacher at Verdala International School, Malta

Kognity reduces my workload, and in the right way. It takes care of review questions and pre-reading, giving me time to focus on students' individual needs and harder topics.

Dr Matt

Welling

Head of Science at Varee Chiangmai International School, Thailand
Discover Kognity's free

resources

for teachers
Kognity provides a wealth of top-quality PD materials for teachers, including webinars, articles and downloadable guides – free and on demand.