See you at

Engage Toronto

!
Toronto French School (Main campus)
Join Kognity's free in-person professional development conference for IB DP science educators! For the first time ever, the conference will transform into a DP Science Bootcamp designed to support you in unpacking the syllabus changes and in preparing for first teaching in the fall of 2023.

On September 1st, event registration begins at 12:00, our first session will begin promptly at 13:00 and the bootcamp ends at 17:00. Below you will find the full agenda & workshop timings.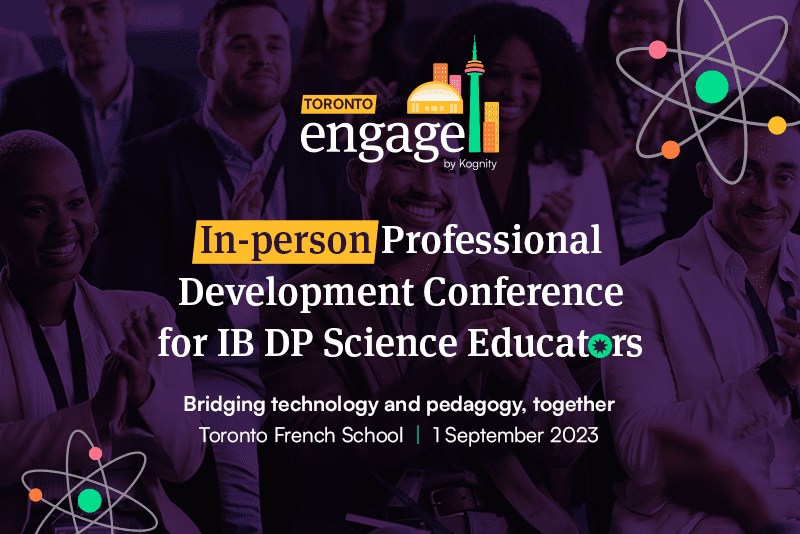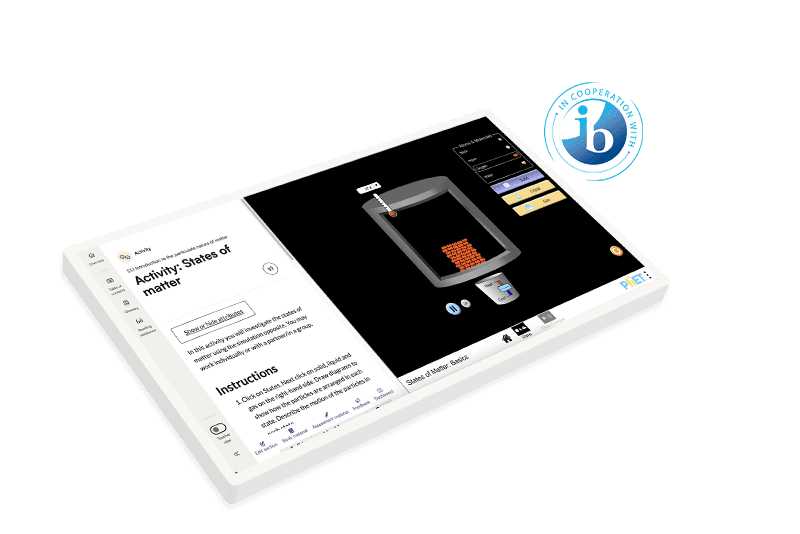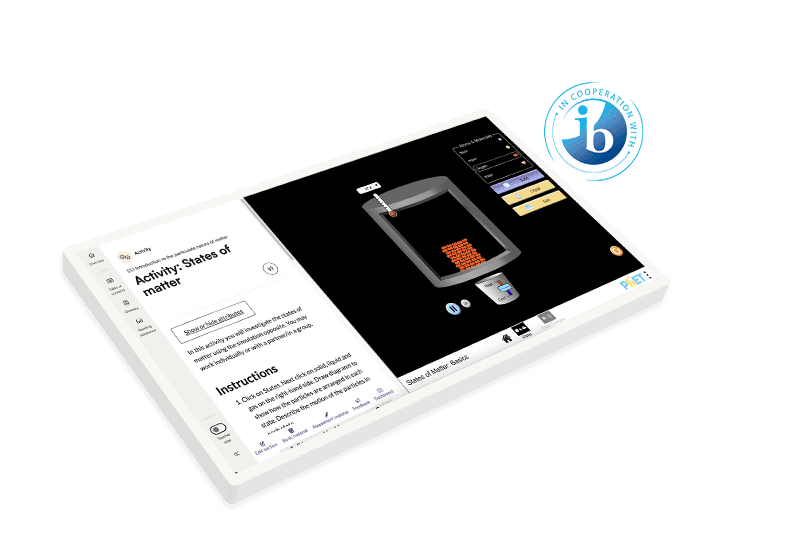 Calling all

DP Science teachers

!
In an afternoon full of workshops committed to tackling the new syllabus, you will break down and discuss the new changes to prepare yourself for the year. You'll leave the conference with practical tips and strategies that will support you in implementing the new syllabus into your classroom.
Join us to get to grips with the new curricula and bring inspiration back to your classroom!
The Agenda
Registration begins at 12:00 and ends at 13:00.
Join us to register, grab a cup of coffee, meet your fellow science educators and get ready for our first session to begin promptly at 13:00!
13:00-14:00
Amy Carneiro
Effectively integrating concept-based learning in the new DP Sciences
Are you teaching a new IBDP science course this fall and not sure how to effectively incorporate conceptual learning in your teaching practice? In this session we will explore the importance of conceptual learning and how it can be used to approach the new curriculum for the IBDP sciences. You will have the opportunity to collaborate with other educators and share ideas for incorporating conceptual learning in your own classroom!
14:15-15:30
Sarah Regli
Exploring active learning strategies for new DP Chemistry course
In this session we will explore the new concept-based syllabus for DP Chemistry and take a look at active learning in the classroom, discuss active learning strategies,  and discuss ways this type of learning can support conceptual learning in DP Chemistry.
14:15-15:30
Hamed Shateri
The new DP Physics curriculum: mapping, inquiry, & collaboration
In this session we will explore the changes to the new DP Physics curriculum. We will discuss possible sequencing of topics and ways in which we can teach some of the concepts through inquiry. We will also collaborate and see how our existing resources can be altered to be used in the new curriculum.
14:15-15:30
Kirsten Masterton
Unpacking, planning & implementing the new DP Biology IA
Do you start to panic at the mention of the IA? Join us for this workshop focused on the recent changes to the IA component of the new IB Biology curriculum. In this session we will explore ideas and strategies for scheduling and implementing the complete IA process to optimise success for students. Skill development prior to IA implementation will be discussed right through to assessment and evaluation.
We will also focus on what it means to maintain balance for teachers in terms of both curriculum delivery and workload! This workshop will offer a chance to engage in collaborative discussions, gain clarity on the changes, refine your teaching strategies to inspire and empower your students, and renew your enthusiasm for the IA as we go into a new school year!
15:45-17:00
Stergios Lazos
Maximize your new Kognity features in the DP Science classroom!
Learn how Kognity's new DP Science subjects are built to support you in addressing and working with the changes made to your science curriculum.
Join this workshop to receive hands on training to make the most out of Kognity's features – both new and old!
15:45-17:00
Angela De Jong
Shaking up the DP Biology Roadmap
After many years of teaching Biology in discrete units of Cell Biology, Biochemistry, etc., while also trying to demonstrate the interconnectedness of concepts like form vs. function, I discovered a new way of working that I would like to share with you!
We will take a look at the proposed roadmap for the new Biology course and begin by exploring the big picture and gradually focus in on investigating the finer details of cells and molecules. Together we will shake up our teaching practice and explore a new scope and sequence and walk away with activities and resources ready for the first topic.
15:45-17:00
Amy Carneiro
Instructional sequencing for the DP Chemistry course
The new IBDP Chemistry course is full of new and exciting changes! In this session we will review the highlights from the new Chemistry guide, including changes to the Internal and External assessments. You will also have the opportunity to collaborate with other educators to share ideas for course sequencing and how to incorporate the new Tools and Inquiry skills in your teaching practice.
3 reasons to attend Engage Toronto

Elevate your DP science teaching
Equip your toolbox with practical tips that will support you in your everyday work and help you adapt to the new curricula.

Meet and connect with the DP Science community
Elevate your teaching and learning by collaborating with your peers in hands-on workshops

Bring inspiration back to your classroom
Learn how to engage your students in order for them to thrive in the Science classroom
Collaborate, learn & grow
Take a look at some snapshots from previous Engage events to get a feel for what you can expect at the Toronto edition.
This professional development conference was my first, and what high standards it has set for the future. I was honestly blown away by how wonderful and truly helpful each session was. It was such a pleasure to meet all of you, and I am really looking forward to implementing everything we learnt during the event!

Nargis Meghii

on Linkedin

Head of IB English & EE Coordinator
Bridging pedagogy and technology, together
Engage by Kognity is the learning hub for thought leaders in education, offering certified professional development and networking with peers. Through hands-on sessions, subject specific workshops, and inspiring keynotes, we will empower your teaching and hand you tools to balance the power and friction of pedagogy and technology.
The conference is completely free and hosted by Kognity, the all-in-one curriculum-aligned teaching and learning platform.
Registration is limited, so register now to reserve your spot!
Register for Engage Toronto!