IB Diploma Programme Mathematics: Applications & Interpretation (FE 2021)
Kognity's online teaching and learning resource for IB DP Mathematics: Applications & Interpretation has been developed by leading subject experts to help learners meet the demands of DP Mathematics with confidence.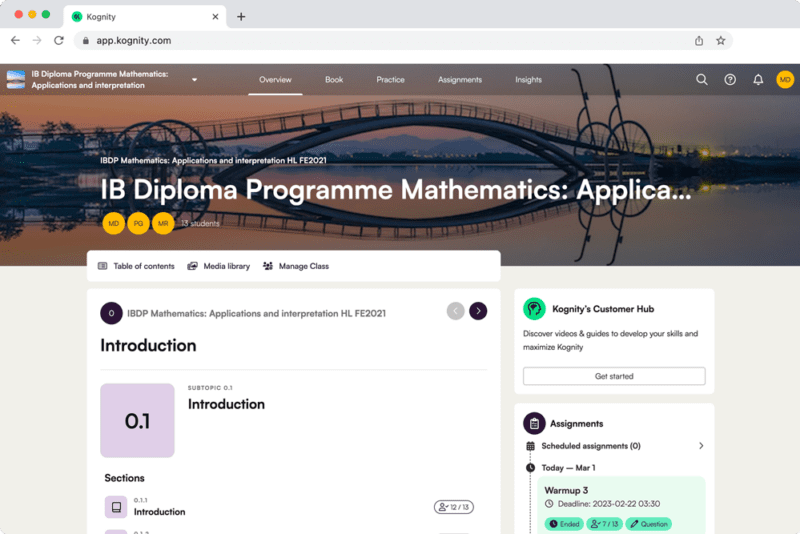 Online textbook and digital resource for IB DP Mathematics
Kognity for IB DP Mathematics is an all-in-one digital resource for the IB DP Mathematics: Application and Interpretation course, providing:
Full HL syllabus coverage (FE 2021).
Investigation ideas at the end of each subtopic to explore relevant mathematics concepts.
Interactive applets for hands-on experimentation and practice, created in collaboration with GeoGebra.
General and model-specific calculator support.
Links to central IB DP ideas such as International Mindedness.
Big picture sections on the history of mathematics and real-life applications.
Internal assessment support with example topics and explorations.
Using Kognity's online platform for success in IB DP Mathematics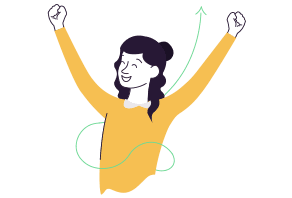 IB DP Mathematics for teachers
Digital teaching resources, assessment support and analytics for IB DP Mathematics.
Kognity for IB DP Mathematics: Applications & Interpretation helps you bring mathematics to life for your DP students. Covering the full HL syllabus, it enables you to foster active learning and stay on top of student progress with:
Up-to-date content with links to the 12 guiding concepts of the IB DP mathematics courses, International Mindedness and TOK.
Over 2000 interactive applets, 3D models, videos and images that bring mathematical concepts to life.
An Insights section with an overview of how each student is progressing and performing in assignments.
200+ exam-style questions with answers and mark schemes to test students' knowledge and prepare them for exam season.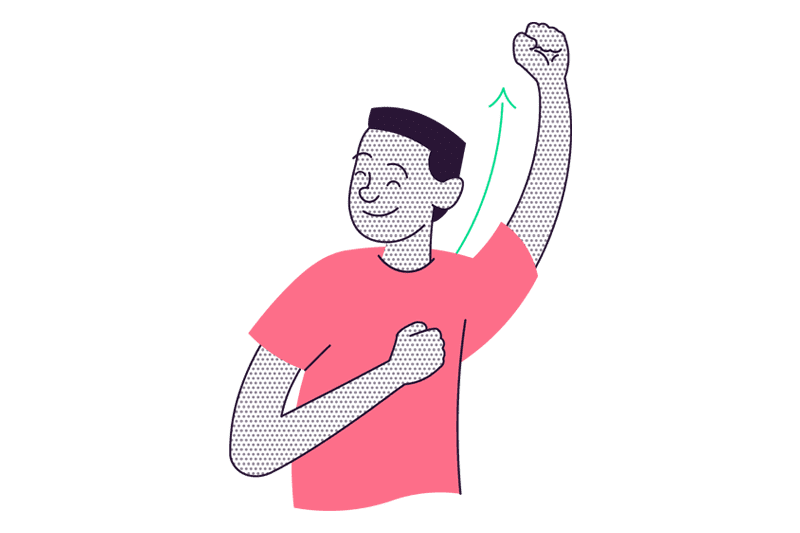 IB DP Mathematics for students
A comprehensive IB DP Mathematics textbook with interactive resources, available online.
Kognity for IB DP Mathematics: Applications and Interpretation provides students with comprehensive resources to develop a solid conceptual and practical understanding of mathematics. These include:
Investigation ideas spread throughout the book to further explore concepts related to the course.
Interactive applets to experiment with mathematical concepts and strengthen foundational knowledge.
"What you should know" and "Exam tip" sections to aid learning and exam preparation.
An Internal assessment guide with explanations of the criteria, example topics and useful tips on researching and writing the exploration.
IB DP Mathematics: Application and Interpretation features
Kognity increases the efficiency with which one can deliver the course. By integrating the strength tests, battles, section questions, quizzes, videos and readings, teachers and students can immediately address areas of confusion.

John

Patton

IB Coordinator at St Gilgen International School, Austria

"Teaching is very different to how it was 15 years ago. Students are so technology-biased now, they're not even interested in opening paper textbooks anymore. Kognity has all the value a textbook has, but you're presenting it in a format that students really will engage with."

Jill

Sculerati

Science Department Lead
Discover Kognity's free

resources

for teachers
Kognity provides a wealth of top-quality PD materials for teachers, including webinars, articles and downloadable guides – free and on demand.
Ready to get

started?
Let's explore how Kognity can meet your school's specific IB Diploma Programme teaching and learning needs
Get started with Kognity