Top-class

Professional Development on demand
Kognity provides a wealth of popular PD materials for teachers and school leaders, including webinars, articles and downloadable guides – all produced by leading experts.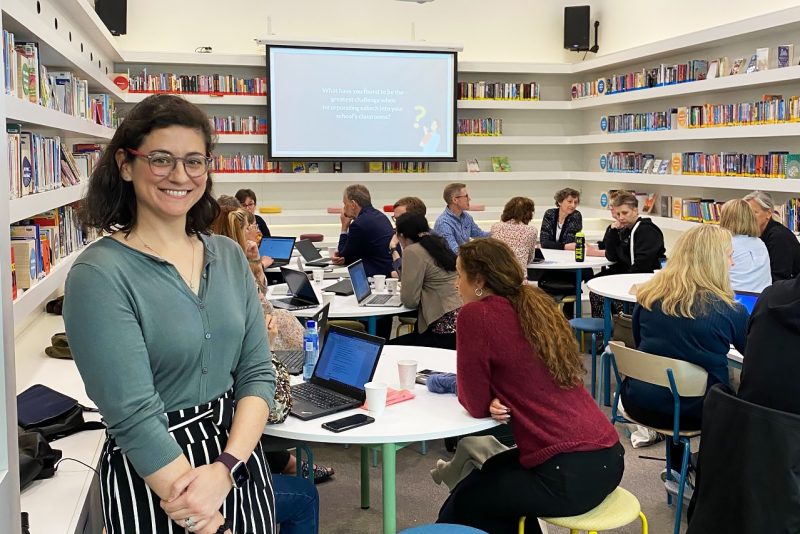 Never standing still as

educators
Kognity's professional development materials address the key challenges that teachers face, taking a practical approach to developing and sharing best practice. Your teaching and learning platform for the IB Diploma Programme combines great pedagogy with innovative technology, supporting a forward-thinking approach to education and staff development.
Committed to

top-class

professional development
Kognity offers a wide range of free PD materials and collaboration opportunities, covering subject-specific challenges, curriculum requirements and key talking points in education.

Join Kognity's live webinars, hosted by expert authors and leading educators, and pick up ideas and insights that will have an immediate impact in your classroom.
join live to connect with educators from around the globe, or watch a recording

receive a certificate of participation and session materials

Kognity's on-demand PD materials help teachers keep up to date and continue developing their teaching practice.
articles on the latest DP requirements and syllabus updates

downloadable how-to guides with in-depth teaching advice

Kognity brings a global community of passionate educators together, both in person and online.
world-class speakers at the annual Engage virtual conference

look out for our live conferences in your region

Learn how to make the most of Kognity throughout your day-to-day teaching practice
embed Kognity in all aspects of teaching and learning

get tips and support from Kognity experts
What

teachers

are saying about Kognity…
I think Kognity has done a wonderful job in bringing teachers together as a community.

Maria

Sayyed

Head of Business and Economics at Raffles World Academy, Dubai, UAE

I think one of the key elements of being part of any community is a give and take relationship, and we feel that we're part of the broader international setting with Kognity.

Brian

Cleary

Head of IB at Deira International School, Dubai
Discover Kognity's free

resources

for teachers
Kognity provides a wealth of top-quality PD materials for teachers, including webinars, articles and downloadable guides – free and on demand.
Ready to get

started?
Let's explore how Kognity can meet your school's specific IB Diploma Programme teaching and learning needs
Get started with Kognity