Engage conference is coming to

Ghana
SOS-Hermann Gmeiner International College
At Kognity, we've been missing the opportunity to gather together with our amazing educators across Africa!
Join Kognity's free in-person professional development conference for IB DP and IGCSE educators and school leaders. Elevate your teaching and learning through workshops, breakout sessions and keynotes during the day, and enjoy a free networking dinner at night. We can't wait to meet you!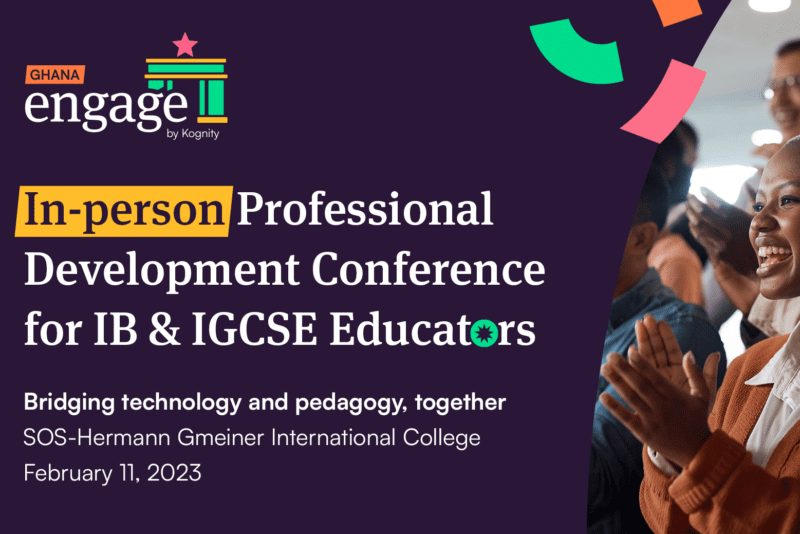 3 reasons to attend

Engage Ghana

Connect with peers
Collaborate during the day and enjoy a free networking dinner together in the evening.

Elevate your teaching
Equip your toolbox with practical tips that will support you in your everyday work.

Bring inspiration back to your school
Learn how to adopt a digital pedagogy strategy at your school, powered by data and technology.
Planning to

travel

to the conference?
Below are three recommended hotels that are near the conference location and information on Ghana's visa procedure.
Bridging pedagogy and technology,

together
Engage by Kognity is the learning hub for thought leaders in education, offering a full day of certified professional development and networking with peers. Through hands-on sessions, subject and curriculum specific workshops, and inspiring keynotes, we will empower your teaching and hand you tools to balance the power and friction of pedagogy and technology.
The conference is completely free and hosted by Kognity, the all-in-one curriculum-aligned teaching and learning platform. Following the conference, join us for a complimentary dinner!
Registration is limited, so register now to reserve your spot!
About

SOS-HGIC
The mission of SOS Hermann Gmeiner International College (SOS-HGIC) is to provide a school of academic excellence for students from SOS Children's Villages from all over Africa, together with students from the host country, Ghana, in a spirit of Pan-Africanism and an awareness of the social needs of society.

The school's philosophy embraces internationalism in its widest sense, a commitment to uplift Africa and active service to the community. Its educational mission is holistic in nature, aiming to develop all students into confident adults capable of facing the challenges of a fast-changing world, by inculcating in them critical and analytical abilities which will equip them to become compassionate thinkers who are aware of their common humanity, with a belief and pride in themselves as Africans. The College's ultimate mission is to graduate life-long learners who are fully prepared for the best universities worldwide and who are also committed to putting their knowledge, skills and resources into developing their continent, Africa.

SOS-HGIC became the first IB school in Ghana when it introduced the IB Diploma Programme in 1993. The school now offers both the MYP and DP and hopes events likes this would open doors for collaboration and sharing of best practice among educators. We look forward to hosting the first ever Kognity Conference in Ghana and Africa in February 2023 and we anticipate a fruitful engagement between educators who attend this event.
Claim your

free ticket

here!