See Kognity in action
Time-saving digital science resources at your fingertips
Kognity for High School Science is much more than an online textbook. It is an extensive platform designed to put both teachers and students in control with flexible, engaging, accessible content for the high school science classroom.
Discover the platform's key features and how they will support you as you engage your students and teach them to take science into the real world.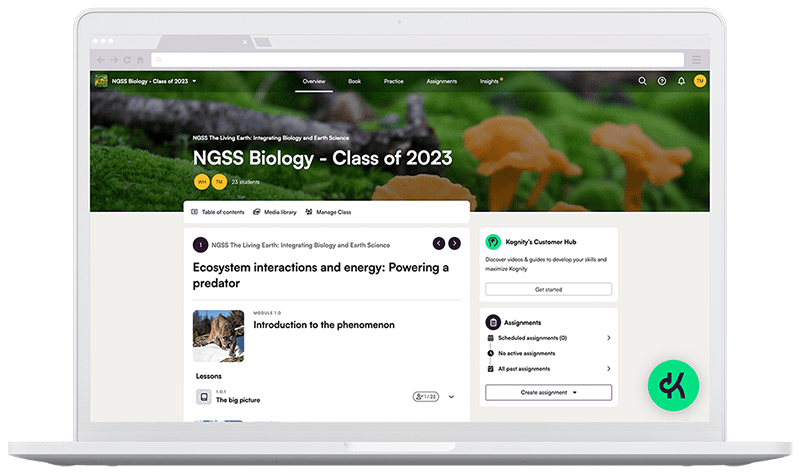 Anchor learning to observable phenomena
Each unit of Kognity for High School Science begins with an introduction of an anchoring phenomenon, which you and your students then further explore via the investigative phenomena presented in the unit modules.
This provides a cohesive storyline that ties the content together and helps students connect the dots between the different topics and concepts presented.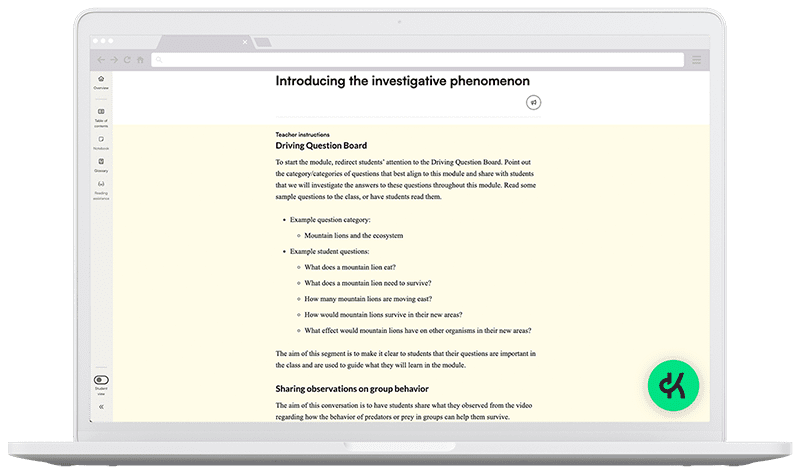 Foster student agency and active learning
The introduction section of each unit encourages students ask questions and engage with each other through the new Driving question board. The board is resurfaced throughout the unit to help them connect back to those questions use their curiosity to guide their learning as a class.
Reflection boxes at the end of each module give students the chance to record their thoughts as they progress through the material, while Activity sheets enable them to store their answers in the platform and hold themselves accountable.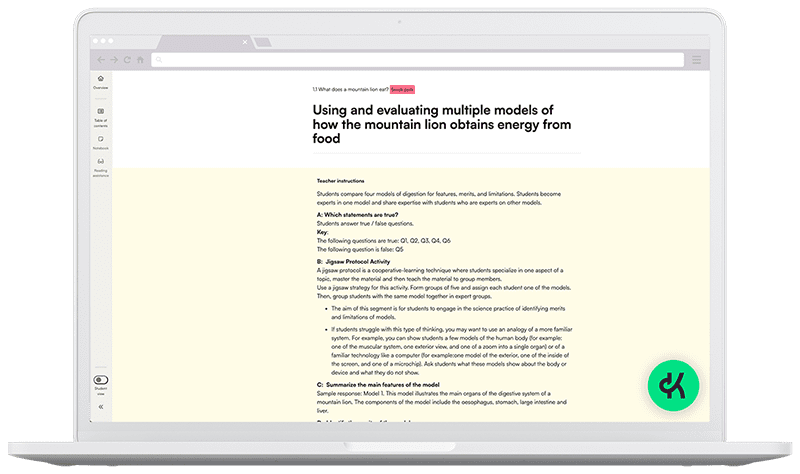 Promote offline collaboration
Kognity is a digital-first resource, but that does not mean that students are expected to constantly sit in front of their screens. On the contrary, the digital book is full of prompts and opportunities for you as a teacher to drive offline activities in your classroom.
The readily-accessible teacher guides, lesson plans and embedded teacher notes will give you ideas for how you can facilitate these activities and support students as they explore.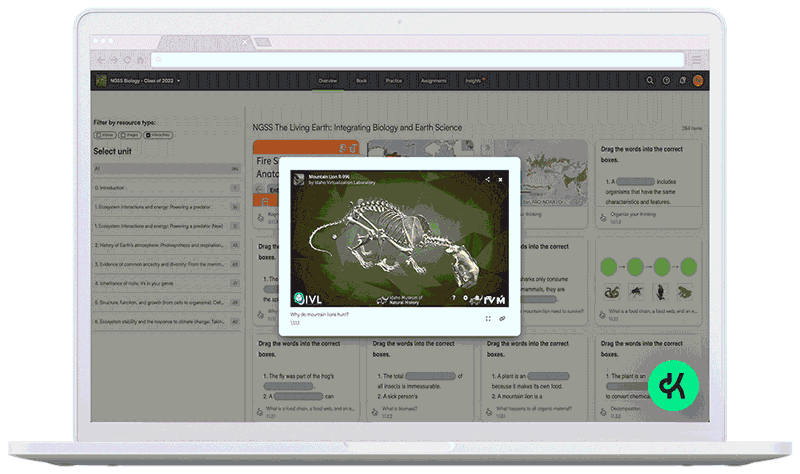 Engage students with interactive content
Kognity drastically reduces the amount of time you need to spend sourcing teaching materials by giving you access to a rich Media Library with hundreds of images, videos, 3D models and other interactives.
The best part? All materials have been vetted by Kognity experts and are ready to integrate into your lessons in any way you choose.
Keep on top of student progress
The Insights section of your Kognity course allows you to keep track of how your classes and individual students are performing.
You can monitor reading progress and get an overview of student performance in all questions they take in the platform. These include the Strength tests available in the Practice Center as well as questions assigned by you.
End-of-module Performance tasks provide an additional means for you to assess student progress over time, and an opportunity for students to prepare for state tests.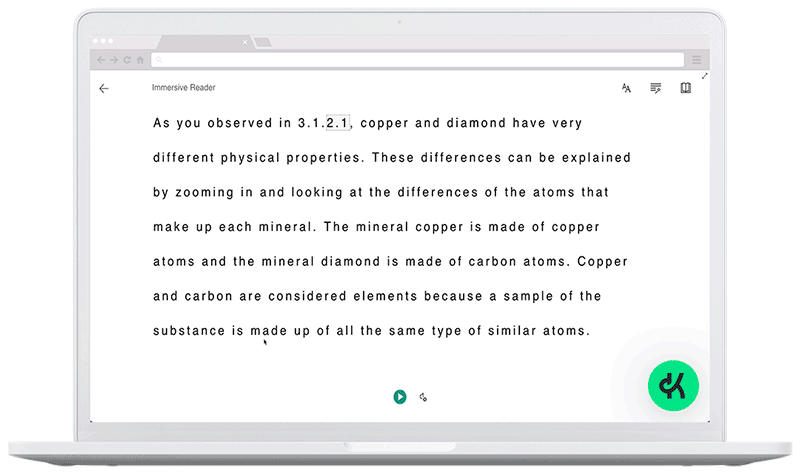 Make learning accessible for all students
With built-in scaffolds and multiple entry points, Kognity for High School Science helps you to provide accessible learning experiences for diverse students.
The integrated reading assistance enables students to adapt lessons and content to their individual needs with screen enhancement options, text customisations, text-to-speech functionality, embedded glossaries and instant translation into 120+ languages.
Get free access to Kognity for High School Science
Take a digital guided tour and explore Kognity for High School Science further with 30 days of free access.