08/11/2022 • 5 min read
How to foster student agency: tips from an expert science educator
Mary Haus is an expert educator with almost 30 years of experience teaching high school science. She currently teaches Chemistry and Biotechnology in the Chaffey Joint Union High School District, Southern California. Mary is passionate about introducing students to new technologies, opportunities, and hands-on experiences in order to broaden their horizons.
When students are empowered to take control of their learning journeys, they gain vital skills for life after high school. But fostering student agency in the classroom can require both teachers and students to step outside the comfort zone of their existing routines.
Mary shared 4 valuable tips with Kognity on how to foster student agency more effectively in the high school science classroom:
Give your students more freedom of choice
Introduce new teaching approaches gradually
Show your students how STEM learning can shape their future
Teach with materials that provide multiple entry points to learning
A choice and a voice
Giving students "a choice and a voice" in their learning is fundamental to fostering student agency. This gets students thinking more proactively about their studies, which makes their day-to-day learning more efficient and long-lasting.
Since Mary started focusing more on providing her students with more choice, she has seen increased student engagement in her classroom. When they have options, students pick activities that suit their needs and interests. This gives them a sense of responsibility and control over their learning journeys, so they're more likely to appreciate the value in a given task. In turn, they're more likely to commit to the hard work it takes to succeed.
When they have a voice, students take ownership. It's absolutely increased my student engagement.
How to start fostering student agency
For educators looking to foster more student agency, Mary's advice is to take things slowly at first if necessary. You know your students best, so you'll need to decide which new initiatives will work alongside the routines and expectations already in place. This might involve some trial and error. Students may not respond to new approaches immediately, but over time they'll see the benefits and gain confidence.
A good starting point is simply to give students a little more freedom of choice than before. For example, this can work well in assessment situations. Rather than setting just one form of assignment, try allowing students to demonstrate their knowledge and proficiency in a range of different ways. When it comes to showing what they've learned, choosing their preferred modality is a great opportunity for students to show agency.
Now students are not as afraid to say, "hey, are there some other ways of looking at this?" That's really great.
Since returning to the classroom after COVID disruption, Mary has noticed an uptick in students asking for alternative ways of looking at new material. This is a strong sign that they are invested in their progress and are thinking about how they want to learn. The ability to recognize their own preferences and strengths, as well as to acknowledge their weaknesses, brings huge value to students' learning journeys. Encourage them to share these reflections.
Lifelong skills and inspiration
When teachers empower their students to recognize their strengths and weaknesses, and to shape their own learning accordingly, they foster valuable life skills. Skills such as reflection, communication and self-advocacy will help students be successful in their future education and careers – as well as in other areas of their lives – long after they graduate high school.
Self-advocacy is a lifelong skill that is going to help students make good life choices.
With those future careers in mind, Mary advocates inviting people who work in STEM fields in the local community into the science classroom to share their stories. This helps her students to relate their learning to the real world, and also to understand how their interests can develop into achievable career goals.
Multiple entry points to learning
Mary uses Kognity for High School Science with her students, and she appreciates the way it encourages them to adopt a more active approach to their own learning.
With Kognity, Mary's students always have multiple entry points to learning. This allows them to explore science in the way that suits them best. Clear real-world connections, built-in reflection opportunities and a focus on science in context all help them to relate to new material on a more personal level.
Multimodal resources have been proven to reinforce knowledge and comprehension more effectively, and Kognity's multimedia content brings a truly interactive dimension to learning. Engaging 3D simulations and video content can be a great springboard for students as they begin to dive deeper into their own interests.
Kognity opens up multiple entry points that I haven't had the ability to provide before.
How does Kognity foster student agency?
Kognity for High School Science will help your students take ownership of their learning journeys. To see how, get instant access and take a look inside!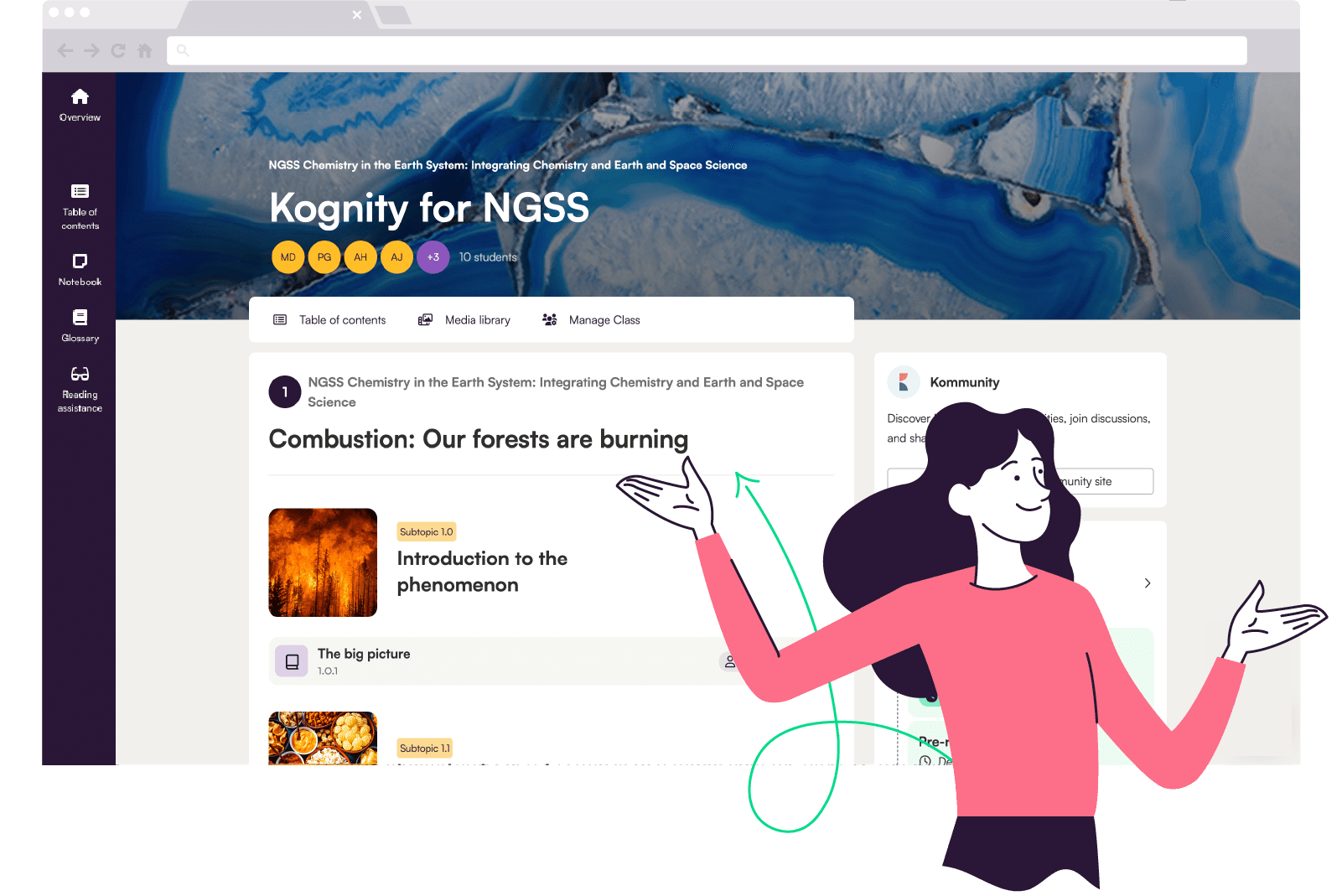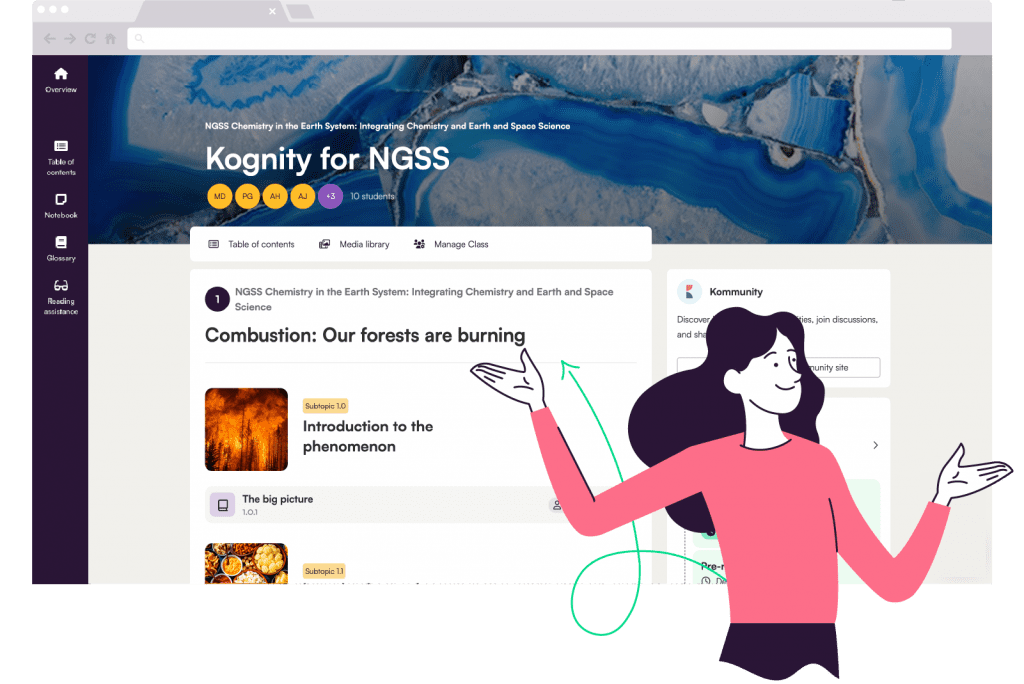 ---