Giving students

control

of their learning
Kognity's Practice Centre supports IB Diploma Programme students with taking ownership of their progress, giving them a clear framework for effective self-directed learning and exam preparation.
Developing

independent

IB Diploma Programme learners
In the Practice Centre, students get access to a bank of curriculum-aligned materials and gamified learning activities. Clear progress tracking helps learners to identify areas to prioritise, resulting in more efficient exam preparation.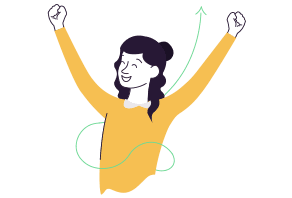 Kognity gives students the tools for more

effective

self-directed learning
In the Practice Centre, students find top-quality materials and a clear framework for independent learning. The digital-first format boosts engagement and enables real-time feedback.

Extensive, reliable resources
The Practice Centre offers a wealth of assessments and activities for students to complete at their own pace.
over 10,000 curriculum-aligned questions

expertly-curated exam-style questions

Faster feedback, faster progress
Students get instant feedback and explanations, ensuring that misunderstandings and knowledge gaps are addressed immediately.
feedback provided at the moment when it has the greatest impact on learning

reduced workload for teachers

Quizzes and gamified learning
Fun, bite-size quizzes and competitive challenges that make independent learning more enjoyable.
strength tests for regular, low-stakes knowledge checks

battles against classmates and the Kogbot

Students can track and reflect on their own progress and plan their study time more efficiently, while teachers also get insights into student activity in the Practice Centre.
strength bars track student learning and highlight areas to prioritise

teachers can monitor progress and engagement
What

teachers

are saying about Kognity…
"Kognity offers so much, and empowers students to become independent learners, evaluating their own progress."

Kenneth

Horrocks

Biology Teacher, Escola Americana do Rio de Janeiro, Brazil

I love that Kognity can be used as a tool to encourage students to be independent and can also be used in class. I especially love the easy reading and videos, as well as the exam-style questions. Kognity is the best!

Tchnavia

Merrick

Teacher at Brooklyn Prospect Charter School, USA
A wealth of free

resources
Kognity provides a wealth of top-quality PD materials for teachers, including webinars, articles and downloadable guides – free and on demand.
Ready to get

started?
Let's explore how Kognity can meet your school's specific IB Diploma Programme teaching and learning needs
Get started with Kognity