Kognity's 2022 Year in Review
As a new year begins, we're taking a moment to reflect on everything we achieved last year. As well as unveiling lots of exciting developments to customers in our platform, we connected and collaborated with educators all over the world, and we worked closely alongside our partners to elevate learning for more students than ever.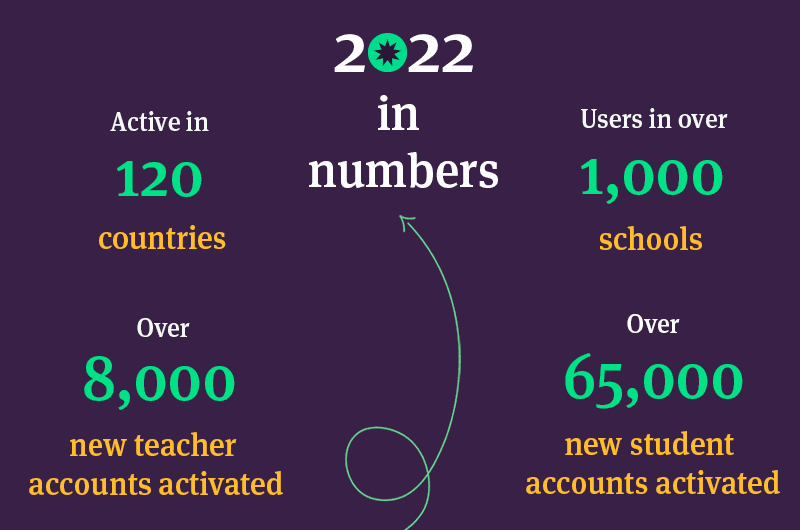 What was launched in Kognity's platform?
Kognity users have enjoyed plenty of updates, improvements and new additions to the platform over the last 12 months. Here are a few that really stood out.
In the words of Kognity educators
Here's just some of what teachers were saying about Kognity last year:
Connecting with educators all over the world
It's been so special to finally be able to meet up with educators face to face again over the past year. We had a very busy 2022 visiting schools, providing professional development opportunities and attending conferences all over the world.
Visiting classrooms
We made sure to visit our customer schools as much as possible in 2022. It's always really valuable to observe teachers and students using Kognity in the classroom, and this real-world feedback helps us to support even better teaching and learning through our platform. We even ran a 3-day workshop for science educators at a high school in California, which was a valuable opportunity for in-depth collaboration. One attendee told us, "Kognity creates a safe space for educators to learn and share."
Hosting professional development conferences
Back in February we hosted the latest edition of Engage by Kognity. Participants from over 120 countries joined this all-day virtual conference to get the latest insights from a world-class line-up of experts in the fields of education and technology. And new for 2022, we hosted in-person Engage Conferences in Dubai, Mexico City and Singapore, bringing educators together to explore ways to bring technology and pedagogy closer together. Engage will be back in 2023 and could be heading your way… first up, we'll be in Ghana on 11 February and Colombia on 24 February!
Attending industry conferences across the globe
Kognity was out in force at so many conferences last year! Cambridge, El Paso, Johannesburg, Madrid, Palm Springs, Quito, Singapore, Toronto… the list goes on! We were a proud global sponsor of the 2022 IB Global Conferences in Singapore, San Diego and The Hague, hosting popular break-out sessions on hot topics in teaching and learning. We'll be sponsoring this year's IB Global events too – drop by the Kognity booth in Adelaide, Toronto or Dublin. See you on the road again in 2023!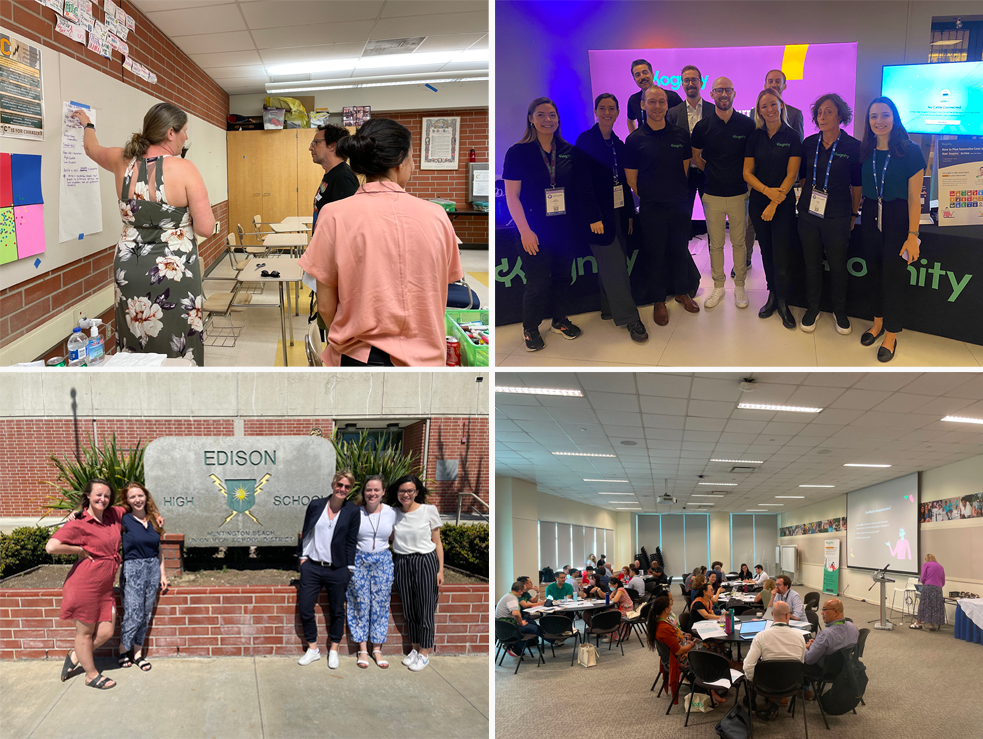 Partners in improving education
We worked closely with our strategic partners last year to deliver the best possible experience for teachers and students.
Co-publishing with the IB
Kognity is proud to be the IB's first digital-only publishing partner. Kognity and the IB have been collaborating for over 5 years to co-create best-in-class content and products that are fully aligned to IB criteria.

It can be tough to keep up with curriculum changes, and the updated IB Diploma Programme sciences (for first teaching in 2023) will be here in no time. In 2022 Kognity started work alongside the IB to develop comprehensive new DP Science resources, which will make it as easy as possible for teachers to navigate the changes. Find out more.
Endorsed by Cambridge Assessment International Education
All of Kognity's Cambridge IGCSE™ subjects are endorsed by Cambridge Assessment International Education, and we've been working with CAIE towards the endorsement of these upcoming titles (for first examination in 2025):
Cambridge IGCSE Mathematics
Cambridge IGCSE International Mathematics
Cambridge IGCSE Co-ordinated Sciences
Cambridge IGCSE Combined Science
Kahoot quizzes by Kognity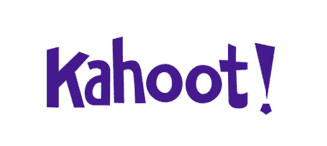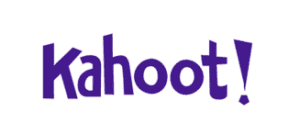 Last year we continued our fruitful collaborations with Kahoot, launching a popular range of ready-made science quizzes for Cambridge IGCSE™ courses to accompany our IB Diploma Programme quizzes. We've also been developing quizzes for US high school science – coming soon!
Clever integration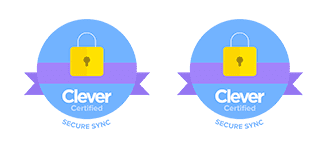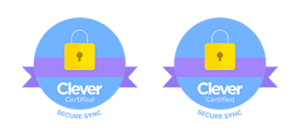 Kognity's new certified integration with Clever makes it easier than ever for schools and districts to get started with Kognity. This has enabled a simpler, automated onboarding process, as well as single sign-on access for teachers and students.
Growing as a business
Kognity continued to grow in so many ways in 2022 – not least in revenue, which increased by over 30%. We significantly ramped up our US team, doubled the size of our tech team and recruited expert curriculum and learning design specialists, welcoming 50 new colleagues in all. Meanwhile, over 8,000 new teachers and over 65,000 new students got started on our platform last year.
Through our sister company Lanterna we completed the acquisition of Elite IB Tutors (EIB), a global online tutoring company. EIB bring a talented team, technological expertise and an extensive teacher network to the table, as well as lots of synergies that will help us to advance Kognity's vision.
Last but by no means least, we're very happy with the fresh new look we unveiled last year, complete with new branding and a major update to our website.
From all of us here at Kognity, thank you so much to all of our customers and partners for everything you contributed to our journey last year. We can't wait to continue our progress together in 2023!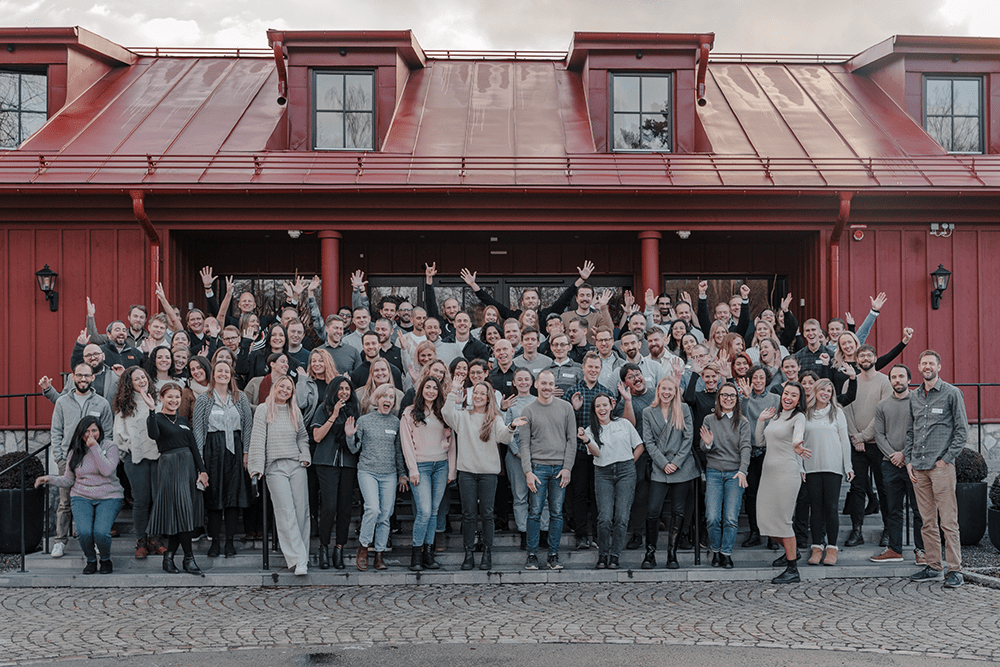 In case you missed this...
As ever, we worked hard to support teachers with their professional development last year – both in person and on demand. Here are just a few must-have free resources for teachers that you may have missed in 2022.