Get up to speed with the new science curricula
Navigate the changes and adapt to the updated IB Diploma Programme Biology, Chemistry and Physics specifications for first teaching in autumn 2023.
Kognity is working in cooperation with the IB to co-publish new DP science subject resources for first teaching in 2023.
See the first batch of content already from February 2023!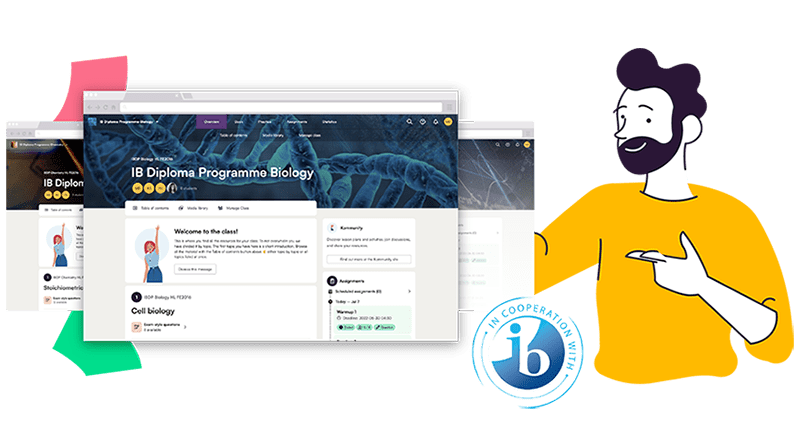 Co-publishing with the IB
Kognity is proud to be the IB's first digital-only publishing partner.
Today, Kognity and the IB have been collaborating for 5+ years to co-create best-in-class content and products that are fully aligned to IB criteria.
This includes an updated digital resource aligned with the latest DP Business Management syllabus (first teaching 2022), and the upcoming DP Biology, Chemistry and Physics subject resources for first teaching in 2023.
With

Kognity for IB DP

you can:

Cover the curriculum with confidence
Kognity for the IB Diploma Programme is a comprehensive platform with resources for learners and educators that is fully aligned with the 2023 Biology, Chemistry and Physics subject guides.
These are being developed in collaboration with the IB and will be co-published starting in February 2023.

Facilitate active learning journeys
Kognity subjects benefit from a refined learning design with an emphasis on active learning.
They also incorporate the central ideas of an IB education, such as conceptual learning, theory of knowledge, the IB learner profile attributes and approaches to learning.

Make learning more inclusive
The new Biology, Chemistry and Physics subjects on the Kognity platform will include valuable new features such as an inline notebook and an integrated, subject-specific glossary.
They also provide assistive technologies such as syntax highlighting, dark background, text-to-speech and translations into 50+ languages.
Stay up to date
Get news and updates about Kognity's new DP Biology, Chemistry and Physics subject resources direct to your inbox.
"*" indicates required fields