Navigate the new IB DP sciences
Adapt to the new IB Diploma Programme Biology, Chemistry and Physics guides for first teaching in 2023.
Free PD resources for IB science educators
Kognity is providing free PD to help you get to grips with the new curricula and get inspiration for your classroom. This includes a webinar series on active learning and innovative science instruction – see details below! You can also get free access to Kognity for IB DP to explore our latest resources for the new sciences.
Subject-specific IB DP science webinars
In this webinar series, expert IB educators and Kognity authors provide subject-specific information on how to adapt to the upcoming changes in the Biology, Chemistry and Physics curricula with speed and efficiency.
Co-publishing with the IB
Kognity is proud to be the IB's only digital-first publishing partner.
We've developed best-in-class teaching and learning resources in cooperation with the IB for the new DP Biology, Chemistry and Physics courses (for first teaching in 2023).
This follows our first co-publishing collaboration with the IB in 2022, to develop comprehensive resources for the latest DP Business Management syllabus.
Get instant access to Kognity for IB DP
Sign up to get instant access to Kognity's new subject resources for IB DP Biology, Chemistry and Physics.
Get instant access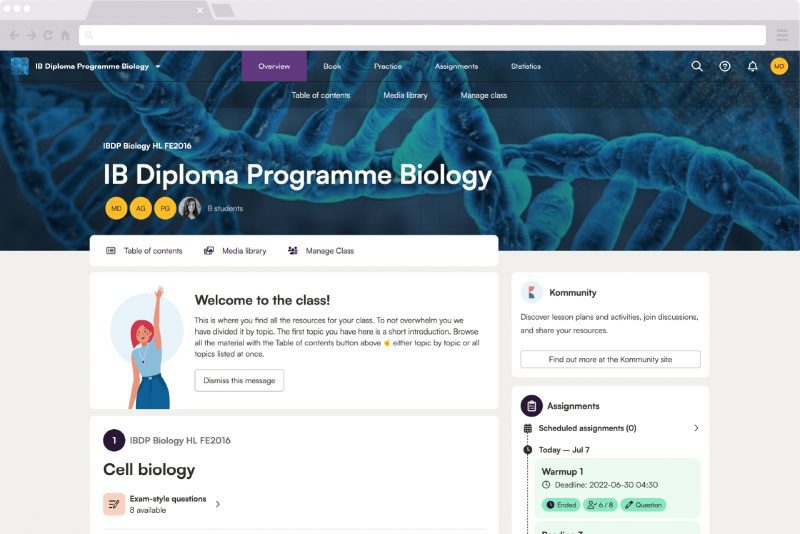 With

Kognity for IB DP

you can:

Cover the curriculum with confidence
Kognity for the IB Diploma Programme is a comprehensive platform with resources for learners and educators that is fully aligned with the 2023 Biology, Chemistry and Physics subject guides.
These are being developed in collaboration with the IB, ready for first teaching in 2023.

Facilitate active learning journeys
Kognity subjects benefit from a refined learning design with an emphasis on active learning.
They also incorporate the central ideas of an IB education, such as conceptual learning, theory of knowledge, the IB learner profile attributes and approaches to learning.

Make learning more inclusive
The new science resources feature valuable new tools, such as an inline notebook and integrated reading assistance.
The built-in assistive technologies – including text-to-speech, syntax highlighting, dark background and instant translation into 50+ languages – remove significant barriers to learning.
Additional resources
Teaching science isn't just about following the curriculum. Check out these webinars for tips on inspiring students to take an active role in their learning journeys, develop a lasting passion for science and discover the positive impact they can have in the world.